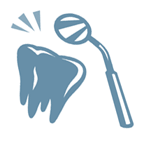 We guarantee competitive and low cost pricing and do not charge fees above the current British Columbia Dental Hygiene Association (BCDHA) fee guide. Our office will work with you to collect benefits from any dental insurance plans you may have.
We also offer many incentives to our new and current patients.

New Patient Exam:

A new patient appointment starts with a complete New Patient Exam of all the tissues in the mouth including the teeth, gums, and surrounding oral tissues. We offer this exam at a reduced fee for new patients with a referral card.

Senior Discount:

We offer a 10% discount to seniors over 65 on any balance that is not covered by an insurance carrier. This discount is not valid for mobile dental hygiene services.

Referral Program:

We value our current patients and have put in place a referral program because we know that word-of-mouth referrals are the best form of advertising. By referring a friend or family member who is not a current patient you will receive $20.00 off of your next visit or towards the purchase of tooth whitening products or oral hygiene supplies.

Just think, by referring a family of 5 new patients you will be saving $100.00.

What's in it for them?
Each new patient you refer will receive a $20.00 discount towards their dental hygiene services. Ask them to mention your name when booking their appointment and we will credit your account when they have completed their visit.

Dental Insurance Benefits:

Preventive and therapeutic dental hygiene services are covered under basic dental treatment through your insurance company but each insurance policy is different and it is important that you understand your individual policy. We are happy to help you acquire the information you need.

We accept dental plans, but you do not need a dental plan to receive dental hygiene services. Payment of is due when services are rendered and our office will work with you to collect benefits from any dental insurance plans you may have. We will complete all of the paperwork at our office during your visit and courier it to your insurance plan. Payment is generally recieved within 1-2 weeks.

Any credit applied to an account will expire after 2 years of inactivity on the account.